Assalamu'alaikum warrahmatullah everyone! how's your puasa so far? Mudah2xan ketani masih tetap besemangat n penuh kesabaran dalam menjalani rukun Islam yang ketIga ani. AMIN3X YA RABBAL ALAMIIIN~

Basically, this post is a rough summary on what's happening within last year n the present (yup, it has been a year since i left this blog unattended... +___+"). For short, the summary is as follows:

1) Done A-level
2) Has graduated from Six-Form (Good bye MSPSBS TT__TT)
3) Received my A-Level result
4) Currently has not been involved in any formal educational programs/works.

So.. my next plan will be?

1) Apply for Nursing course in UBD as my first choice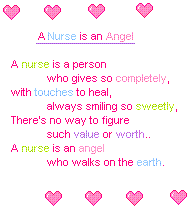 (Yes, nursing has been my profession of interest since EVER >>___<< HOPEFULLLY, everything will turn out well. AMIN YA RABBAL ALAMIN, YA RABB)

2) Hmm... still deciding whether to choose Midwifery as a second choice or Biology...

As for now, I'm still waiting for the next HECAS to open up n just do some research upon the potential courses.


I think.. that's about all for now. I would like to take this chance to say thank you to all my tutour in MS who had taught me from the lower secondary o upper six form. I dont think that they're reading this but at anyhow, thank you for everything... for all that been taught n shared, for all of your patience n care. Especially Cg. Nasrina (science teacher), Cg. Mardewati, Cg. Suryani, Cg. Dk. Hafizah and Cg. Marlini (IRK Department), Cg. Arinah, Cg. Mimi, and Ms. Yong (MATHS), Cg. Farza (Malay), Ms. Nuriman aka Ms. Angela, Ms.Ann Crowley and Ms. Zaza (Eng Dep), Cg. Balqis (Chem), Sir Shabiyullah, Ms. Tan n Ms. Shandra (Biology) n lastly Cg. Nordiana aka 'Ms. Mel' (PHY). Allah SWT saja yang mampu membalas jasa biskita semua...